In this retreat we will call on our ancestors, including Martin Luther King, Thich Nhat Hanh, and Cree Elder Jim Settee, to support us in building beloved community, in today's world.
Ancient and modern teachings will guide us in connecting through our diverse identities and experiences, into ways to stand strongly and kindly together, in these times.
November 5-7, 2021
Friday 7 pm to Sunday at 4 pm (Saskatchewan time)
Online via Zoom
Register here:
https://saskatooninsight.com/forms/view.php?id=42120
---
When I met Martin Luther King Jr., in 1966, we spoke about Sangha building. The beloved community is the Sangha. ~ Thich Nhat Hanh
---
Devin Berry began his practice with Thich Nhat Hanh's Plum Village sangha and has been practicing Insight meditation since 1999. His practice primarily focuses on daily life and long retreat practices that point to the liberative teachings of the Buddha. Devin was formerly a teacher at East Bay Meditation center in Oakland, CA where he co-founded both the teen and men of color sangha. He co-founded Deep Time Liberation, an ancestral healing journey that explores the impact of ancestral legacy and intergenerational trauma on Black Americans. Devin teaches regularly at Insight Meditation Society (IMS). He currently serves on the boards of Insight World Aid and Barre Center for Buddhist Studies. Devin recently relocated from the San Francisco Bay Area to Western Massachusetts and teaches nationally.
Jeanne Corrigal has been practicing since 1999, and is the Guiding Teacher for the Saskatoon Insight Meditation Community. She is a graduate of the 2017-2021 IMS teacher training program, and also Spirit Rock's Dedicated Practitioner Program, and Community Dharma Leader Program. She is trained with Mindful Schools, and a certified MBSR Teacher (Mindfulness Based Stress Reduction). She is influenced by many teachers, including Thich Nhat Hanh. Jeanne is Métis, and one of her first teachers in loving presence was Cree Elder Jim Settee.
---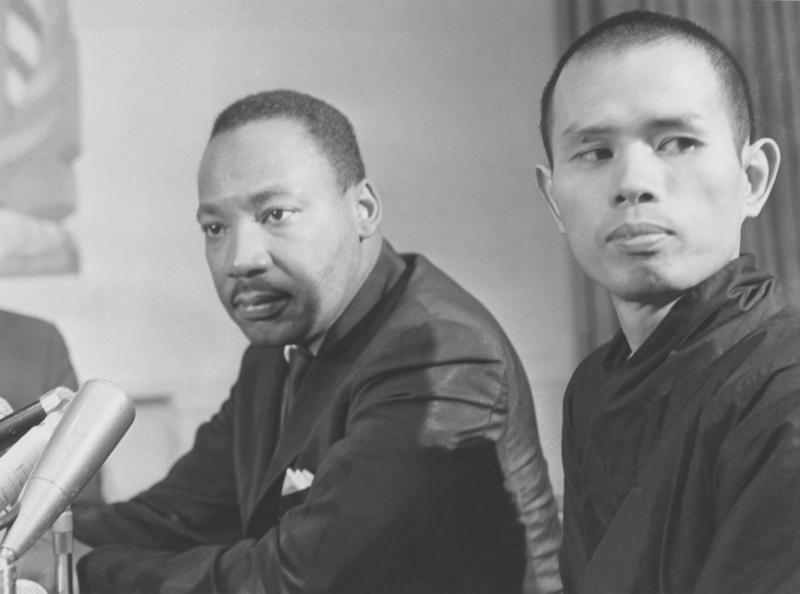 ---
Image credits: Thich Nhat Hanh, Martin Luther King Jr and Thich Nhat Hanh, Jim Settee from Jeanne's files